In one of our last blog posts we talked about the headless content management systems and their advantages compared to traditional systems. But does the theory also work on a real project? We'll answer this question in this post and compare "Joomla" and the headless CMS "Prismic".
First, we want to say that both systems are very suitable for creating websites and other digital products. Each CMS has its advantages and disadvantages. But you will learn more about in the following lines.
We are comparing both systems in their default configuration without the installation of plugins and extensions. And these are the main categories in which we are comparing Joomla and Prismic:
Developer and Support
Content Management
Images, documents and media
Customizability
Ability to install extensions
Users, user-groups and roles
Hosting
Pricing
Developer and Support
The open-source content management system "Joomla" is a complete community product. It has been offered free of charge under the GNU General Public License since 2005 and is constantly being updated. Also, more than 5% of all world-wide websites are being managed with Joomla and it is one of the 10 most popular CMS.
The CMS "Prismic" is part of the headless CMS family and is being offered as SaaS product by the French company of the same name. Prismic is available in several editions, starting with the "Community-Edition". Depending on which edition you choose the available functions are different regarding user-management, SLA and support.
If you are using Joomla, the support is only through the community. At Prismic this is included starting with the "Medium-Edition" from the company directly.
Content Management
Probably the most important part of a content management system and main reason for using one is to manage content. That's why this is the main aspect in our comparison.
Joomla is being shipped with a default article-management. It includes the default input fields as well as a WYSIWYG-Editor (What-You-See-Is-What-You-Editor). By using the native "custom fields" plugin of Joomla you can extend the basic interface with custom fields to create custom content types. But this is limited.
After registering for Prismic you get a blank CMS with no content types or anything else. Just like any other headless CMS. But this is also the basic idea of a headless CMS.
For this reason, Prismic includes a lot of different input and text files with which you can build custom content types. For example, you can build a content type for a list of people or another for a blog on your website.
In our comparison, the point in this category goes to Prismic, as the flexibility of its own content types predominates.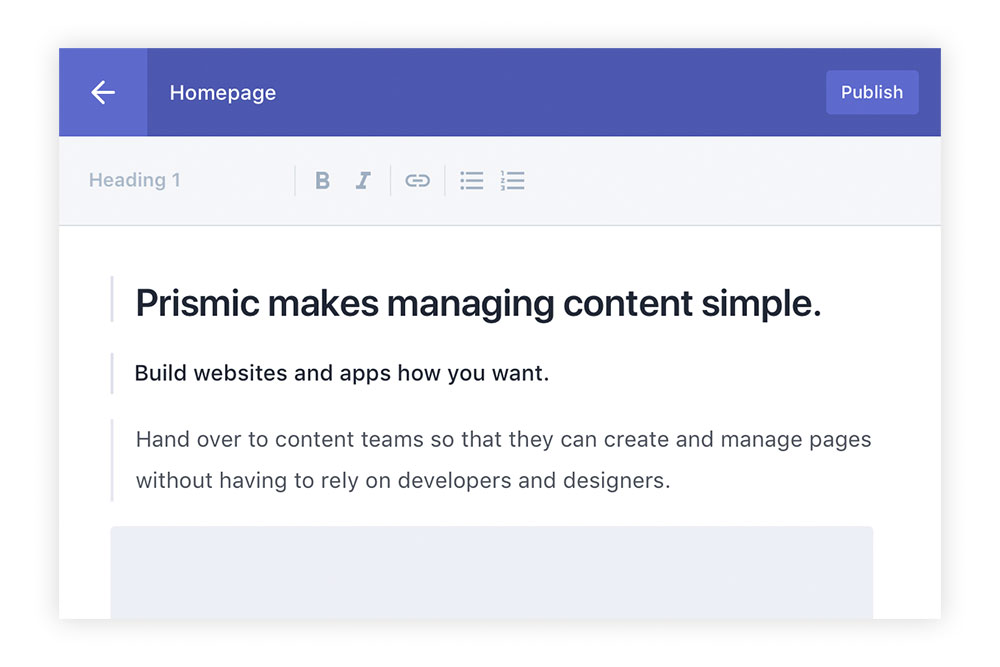 Images, documents and media
Both CMS have an integrated file manager with which you can manage images, document and media. A function to edit images directly in the system is not included in any of the systems.
At Joomla the file manager is primarily made for managing images, but you can also use it for documents and small videos. Additionally, you can create folder to manage your files, sort and group them.
Unfortunately, the option to create folders is not available in Prismic. But you can add directly to each file an alternative-text, copyright-information and description. Further it is possible to create automatically responsive versions of an image through the integrated image-optimization which is a big benefit in responsive webdesign.
On our case-study about the "Website Relaunch Realschule Fürstenfeldbruck" you can read how we integrated a server side and dynamic image-optimization in Joomla.
Coming with the new Version 4 of Joomla there is also a completely new media manger. So, it remains to be seen how this will prove itself in practice.
In our comparison the point in this category goes to Prismic because of the native responsive and image optimization features.
Customizability
In this category a result can be drawn from the previous ones.
Because we're comparing the content management systems in their default version without the installation of extensions and plugins, Prismic is the winner.
The reason is that Joomla comes with a certain basic structure by default, which then has to be adapted to the website.
In Prismic, a surface that is completely tailored to the website can be created from scratch.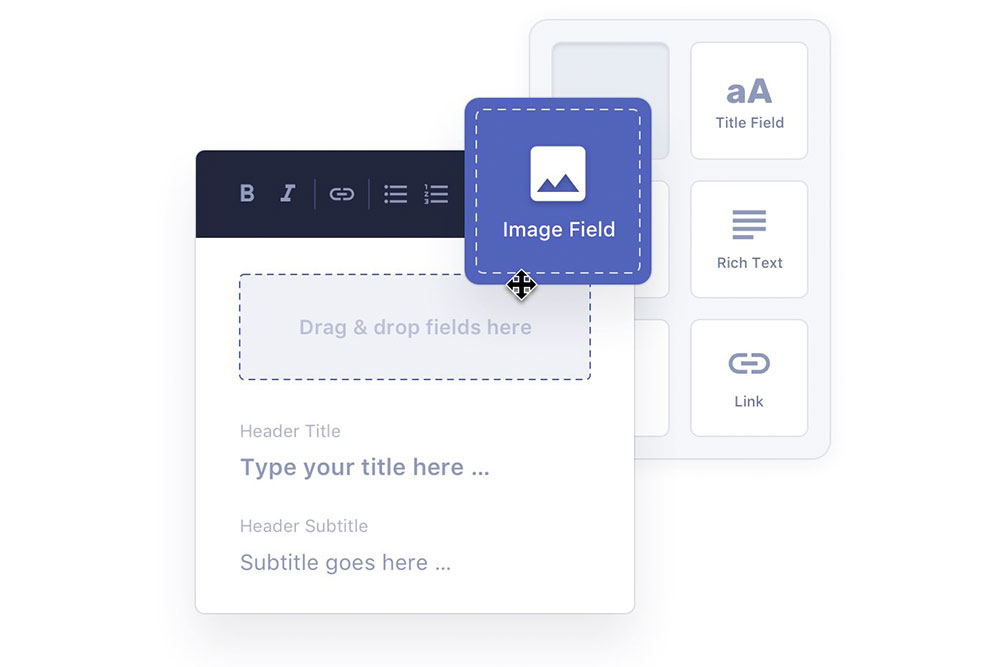 Ability to install extensions
As we are used to from the community systems Joomla, WordPress and Co., there is the possibility to install extensions. This means that the range of functions of the system can be expanded and adapted to your own requirements.
Although the number of available extensions for Joomla is lower than for WordPress, it is still very large. There are extensions like text editors, document manager and performance optimization plugins, that can be installed.
Prismic currently does not have the option to install extensions. From our point of view, however, this is not necessary, because you can create custom content types, which fit perfectly into your requirements.
Nevertheless, the point here goes to Joomla, because you have the ability to add extensions.
Users, user-groups and roles
In both content management systems, you are able to create multiple users and groups with different roles and permissions.
In Joomla, you can also adjust the roles to the installed extensions and give users permissions to use them. Since it is not possible to use extensions with Prismic anyway, this function is not necessary there.
From our point of view, Joomla and Prismic are on par in comparison.

Hosting
With Joomla there is the possibility to fall back on a "managed hosting", in which the CMS is completely hosted by the provider and you only get the back-end access.
We think, that this doesn't really make sense, because that's not the basic idea of ​​an open source system. That's why we assume a self-hosted version in our comparison.
For this is a shared-hosting package or an own server with PHP and a database like MySQL required. The prices start at around 10€ per month, depending on the provider.
Feel free to contact us at FeichtMedia to get a quote for webhosting.
The situation is completely different with Prismic: Here the CMS is offered as a SaaS solution and provided exclusively by the provider. Because our comparison is only about the CMS itself, we will not talk about the front end at this point.
If you want to deploy both systems in a larger cluster with increased reliability, Prismic is probably more suitable. Because when using Joomla, several web servers, a load balancer and a high-availability database are required, which are relatively expensive. As a SaaS solution, Prismic has already been optimized accordingly to this.
Pricing
Joomla is offered free of charge as a community product and as an open source solution.
Prismic is a SaaS solution, a basic version is available for free. If you want support, high reliability and user management as additional features, you have to fall back on a premium plan. These cost around 100-500€ per month (with annual billing).
However, if you want to provide Joomla in a highly available environment and optimize it for many simultaneous accesses, the hosting costs also increase.
From this point of view, the two content management systems are very similar in terms of hosting and costs.
Conclusion
In our comparison, we compared the two systems with our experience with them and the facts. Ultimately, however, it always depends on the end product for which the CMS is to be used.
You want to implement a website or a digital product, but you don't know which system is right for you? We would be happy to advise you: Just write us a message.
When should you use Joomla?
If you want to create a corporate website where all pages are structured completely differently and you want to develop as little as possible yourself, Joomla is probably the better choice for you.
With the installation of additional extensions, good results can be achieved in most cases. Also, Joomla-sites are easy to maintain and deploy up to certain numbers of visitors.
You can find more information about Joomla here.
When should you use Prismic?
If you're planning a product with multiple endpoints, like a website, app und internal website, then Prismic is definitely the better choice for you.
But even if your front end is to be developed and provided completely individually, Prismic is better suited than Joomla. Because by using GraphQL as a query language, you have many opportunities to create a modern product.
The individually adaptable content types also help you to keep the area for editors simple and very flexible. We think Prismic is as easy to use as Microsoft Word.
You can find more information about Prismic here.